Award Winning Dentistry at Clifton Dental Studio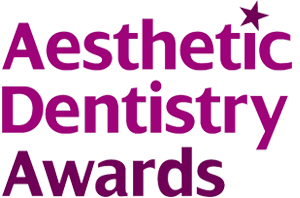 Aesthetic Dentistry Awards 2018 Finalist
Restorative – Single Tooth Ceramic Dr Neil Gerrard and Dental Technician
Implant – Single Tooth Dr Neil Gerrard and Dental Technician
Interdisciplinary Team Orthodontic – Restorative Dr Alex Lindfield
Aesthetic Dentistry Awards 2016
Winners
Restorative – Single Tooth Composite
Restorative Case – Single Arch
Restorative – Conservative Smile Makeover
Finalist in
Multiple Implant Case
Restorative Case Full Mouth Rehabilitation
Plus
Best Aesthetic Dentist 2016
Best Aesthetic Technician 2016

Dr Neil Gerrard and Clinical Technician Paul Gerrard have been voted best aesthetic dentist and dental technician 2016-2017 at the prestigious Aesthetic Dentistry Awards.
Aesthetic Dentistry Awards 2015
Winner of Restorative Case: Conservative Smile Makeover
Highly commended Restorative Case Single Arch
Aesthetic Dentistry Awards 2014
Winner of Best Single Restorative Arch
Highly commended for Direct Composite Case
Restorative Case Single Arch – Paul Gerrard Clinical Technician
Restorative Case Single Arch – Dr Neil Gerrard
Highly Commended Conservative Composite Case – Dr Neil Gerrard
Best Single Restorative Arch – Treatment of severe gummy smile with gum lift and cosmetic all-ceramic crowns.
Best Direct Composite Case – Treatment of traumatised teeth with direct cosmetic bonding and professional home tooth whitening
Aesthetic Dentistry Awards 2013
Shortlisted for Best Conservative Composite
Shortlisted for Best Interdisciplinary Smile
Shortlisted for Best Multiple Implant Smile
Shortlisted for Best Single implant Smile
Private Dentistry Awards 2012
Highly commended for Best Dental Team
Private Dentistry Awards 2007
Private Dentistry Awards Finalist 2007 Most improved practice
Smile Awards Finalist 2010
Best Composite Smile
Best Conservative Ceramic Smile
Best Conservative Ceramic Technician
Smile Awards 2012
We are delighted to announce that at the recent National Smile Awards, held on the 23rd March at the prestigious Landmark Hotel in London, Dr Neil Gerrard was awarded the Smile award for best single arch restorative smile and received a commendation for the quality of his conservative ceramic smile.
Dr Gerrard and the team at the Clifton Dental Studio were shortlisted as finalists for seven awards in total, which include:
Best Whitening Case
Best Restorative Smile
Best Conservative Ceramic Smile
Best Conservative Composite Smile
Best Interdisciplinary Smile
Best Multiple Implant Smile
Best Aesthetic Practice – South
Dr. Gerrard would like to thank his brother Paul, for the outstanding laboratory work which contributed to all finalist nominations and the winning case.
The winning smile belonged to Mr Matt Williams, while Mr Jonathan Moyse's smile was highly commended
BACD Accreditation 2008
Dr. Neil Gerrard BDS, RDT, Accredited dentist 2008
BACD Accreditation 2011
Dr. Neil Gerrard BDS, RDT, Accredited dentist 2011