Do You Have Questions About Dental Implants?
Speak to The South West's Trusted Dental Implant Experts
Call Now To Speak To The South West's Trusted Dental Implant Team:
0117 973 1910
If you're considering Dental Implants, the most important decision you'll make is the dentist you choose to place your trust in.
For 16 years, Clifton Smiles has been Bristol and the South West's trusted dental practice for implants. Under the care and expertise of the team led by Dr Neil Gerrard and dental technician Paul Gerrard, we pride ourselves on taking the time to understand our patients, answer your questions and address any concerns you have, so that you can make a decision about implants, equipped with the information you need.
Our team recently won the prestigious Best Aesthetic Dentist and Technician of The Year Award and are finalists in 2018 too! We are here to help.. Give us a call now with your questions – you can also book your Free Consultation.
Call us on:
0117 973 1910
Implants can be far easier to manage than bridges for eating and daily life.

Implants will often last far longer than other treatments.

Your implants will feel and look completely natural.
Restore Your Beautiful Smile For Good
A Smile You're Proud To Show
Stop worrying about gaps or obvious dental bridges. Dr. Neil Gerrard is highly experienced in restoring your oral health.
Avoid Unsightly Missing Teeth
Talk and engage with others without
risking showing potentially embarassing
dental problems.
Enjoy a full set of teeth without
having to manage bridges and
partial dentures.
Dr. Neil Gerrard will fully restore your
teeth using permanent, long lasting
dental implants.
Look and Feel Like Natural Teeth
Everything about your implant will match your normal teeth, making it look and feel
completely natural.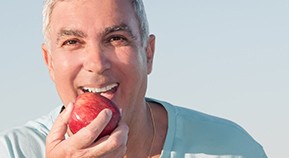 Gaps can often cause hygiene and chewing problems, but having implants can help promote great oral health.
– The Next Step – Speak To The South West's Trusted Dental Implant Experts
If you're on a mobile phone, just tap to call on the button below and we will be happy to answer your questions about implants. You can also book a Free consultation where we'll explain the process to you and the options you have. Give us a call today – you have nothing to lose and everything to gain – including a beautiful smile!
Call Now To Speak To The South West's Trusted Dental Implant Team:
0117 973 1910